Drilling Depth:
300 ft
Borehole Diameter: 6-inch
Pull/Push Back Force: 2,500-lbs/Adjustable up to 2,500-lbs
Soil Types: Sand, clay, gravel & soft rock
Applications: Water wells, soil sampling, geotechnical testing, exploration shot holes & auger drilling
Thanks to increased horsepower and torque, the LS300H takes drilling to new depths. Its user-friendly design provides hassle-free operation and maintenance, increasing productivity and efficiency. Its ergonomic control placement allows quick adjustment of both the rotary and draw-works. Fit for drilling in sand, clay, gravel and soft rock formations, the LS300H is versatile in a variety of conditions and offers the ability to dig a 6-inch borehole to a depth of 300 feet.
• The LS300H efficiently drills 6-inch borehole to 300 foot in sand, clay, gravel and soft rock formations.
• Heavy-duty welded steel frame and re-enforced table base provides added durability.
• Hydraulic system features pullback forces of 2,500 pounds and push down forces adjustable up to 2,500 pounds for efficient drilling in rugged terrain.
• Convenient by-pass flow switch allows pushing up to maximum force when anchored.
• Its 3-way ball valve enables operator to quickly by-pass mudflow when adding pipe.
• Swivel base design moves rotary aside for full, easy access to borehole.
• An 11-horsepower Honda gas or 10-horsepower Yanmar or Hatz diesel engine provides worry-free power.

Features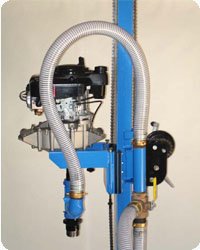 Hydraulic Rotary
Swivel & Table Base

Control Valves
13HP Mud Pump

Package Includes:
Mud Pump – 13 HP Honda Gas or 10 HP diesel
Mud hoses – 2-in.
300 ft. of M250 drill pipe (60pcs) with straight thread tool joints w/ break out lugs
Step drag bits and reamers – 3 7/8" to 7" diameter
Reamers
Tool Box
Spare Parts
Specifications
Mast
Pull Back – 2,500 lbs
Push Down – Adjustable 0-2,500 lbs
66 in. Travel
Heavy Duty Welded Steel Frame
Breaks down for ease of transport
3-Way Ball Valve
Rotary
Hydraulic Top Head Drive
70 RPM Rotation Speed
375 ft. lbs. Max Torque
2 in. Full Flow Side Inlet Swivel with Easily Replaceable Seals
Swings Aside or Removes for access to borehole
Dimensions
Height: 96.5 in.
Width: 12 in. (base)
Length: 24 in. (base)
.
Weights
Hydraulic Mast: 174 lbs.
Hydraulic Rotary: 70 lbs.
Base: 49 lbs.
Mud Pump
13 HP Honda Gas Engine or 10 HP Diesel Engine
190 ft. Max Head
200 GPM Max Flow
2 in. Discharge
2 in. Suction
Controls
Rear Mounted Dual Valves
3,000 PSI Pressure Gauge
Adjustable Relief Valves
Hydraulic Power Source
11 HP Honda Gas – 6 GPM, 2,500 PSI
10 HP Yanmar Diesel or Hatz Diesel – 6 GPM, 2,500 PSI
Drill Stem
2 in. ID x 5 ft. Lg, M250 Straight Thread Tool
Joints with Breakout Lugs
Step and Chevron Drag Bits – 3-7/8 in. to 8 in. dia.
Options
Wheel Kit
DTH Hammer Package