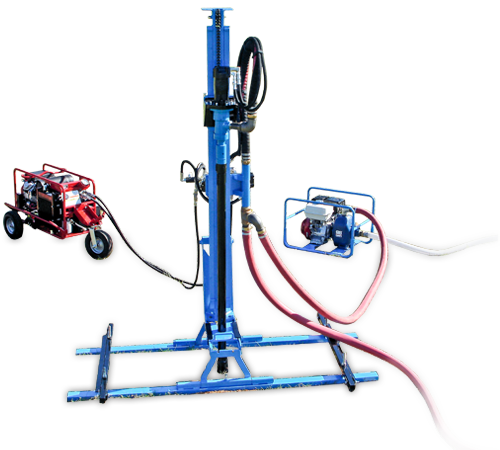 Drilling Depth:
300 ft
Borehole Diameter: 6-inch
Pull/Push Back Force: 5,000-lbs @ 2,500 PSI/Adjustable up to 5,000-lbs
Soil Types: Sand, clay, soft & hard rock formations
Applications: Water wells, soil sampling, geotechnical testing, exploration shot holes & auger drilling
The LS300H+ has the power to satisfy the most demanding drilling applications. Featuring substantial horsepower and a high capacity, load-bearing swivel, the LS300H+ offers extended seal life virtually eliminating costly downtime. The unit's by-pass flow control provides a powerful 5,000 pounds of pushing force when anchored, ensuring the drill reaches its destination every time. Adaptable to a variety of conditions, optional tricone roller bits and drill collars push through soft and hard rock formations.
• The LS 300H+ efficiently drills 6-inch boreholes to 300 feet in sand, clay, gravel and soft and hard rock formations.
• Heavy-duty welded steel frame and re-enforced table base provide added durability.
• Hydraulic system features pullback forces of 5,000 pounds and push down forces adjustable up to 5,000 pounds for efficient drilling in rugged terrain.
• Convenient by-pass flow switch allows pushing up to maximum force when anchored.
• Its 3-way ball valve enables the operator to quickly by-pass mudflow when adding pipe.
• Swivel base design moves rotary aside for full, easy access to borehole.
• A 20-horsepower Honda gas or 19 horsepower Kohler diesel engine provides worry-free power.

Features
Hydraulic Rotary
20HP Hydraulic Power Unit
Reinforced Table Base w/Slip
Control Valves
13HP Mud Pump
Package Includes:
Mud Pump – 13 HP Honda Gas or 10 HP diesel
Mud hoses – 2-in.
300 ft. of M250 drill pipe (60pcs) with straight thread tool joints w/ break out lugs
Step drag bits and reamers – 3 7/8 in. to 7 in. diameter
Casing Flush Tool
Tool Box
Bailer & Rig
Tool Box
Spare Parts
Specifications
Mast
Pull Back – 5,000 lbs. at 2,500 PSI
Push Down – Adjustable 0-5,000 lbs.
66 in. Travel
Heavy Duty Welded Steel Frame
Component Break Down for Ease of Transport
3-Way Ball Valve for mud flow by-pass
Rotary
Hydraulic Top Head Drive
95 RPM Rotation Speed at 10 GPM
665 ft. lbs. Max Torque at 2,500 PSI
Load Bearing Side Inlet Swivel
Swings Aside or Removes for access to borehole
Dimensions
Height: 96.5 in.
Width: 12 in. (base)
Length: 24 in. (base)
Weights
Hydraulic Mast: 190 lbs.
Hydraulic Rotary: 115 lbs.
Base: 65 lbs.
Mud Pump
13 HP Honda Gas Engine
or 10 HP Yanmar Diesel Engine
190 ft. Max Head
200 GPM Max Flow
2 in. Discharge
2 in. Suction
Controls
Rear Mounted Dual Valves
3,000 PSI Pressure Gauge
Adjustable Relief Valves
Hydraulic Power Source
20 HP Honda Gas – 10 GPM, 3,000 PSI
19 HP Yanmar Diesel – 10 GPM, 3,000 PSI
Drill Stem
2 in. ID x 5 ft. Lg, M250 Straight Thread Tool
Joints with Breakout Lugs
Step Drag Bits & reamers – 3-7/8 in. to 7 in. dia.
Options
Wheel Kit
DTH Hammer Package