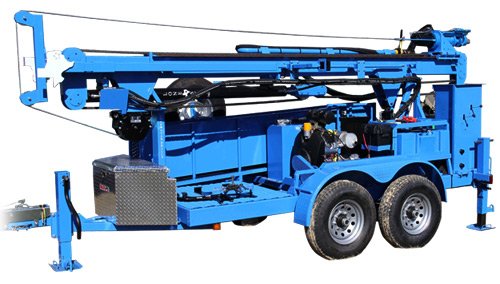 Drilling Depth:
400 ft
Borehole Diameter: 6-inch
Pull/Push-Back Force: 15,000-lbs/9,000-lbs
Soil Types: Sand, clay, soft & hard rock formations
Applications: Water wells, soil sampling, geotechnical testing, exploration shot holes & auger drilling
The LS400T+ is the largest in the Lone Star line. It boasts a 6 inch borehole with drill depths up to 400 feet. It easily adapts to DTH hammer drilling. It also offers an optional foam injection/lubricator.  The LS400T+ is shipped fully assembled in a 20-foot container.
The LS400T+ features a heavy-duty welded steel construction with a two-piece bed.
Hydraulic system features pull-back forces of 15,000-pounds and push down forces up to 9,000-pounds for getting through harsh terrain.
Controls are conveniently located on the left side of the trailer.
The LS400T+ features 16-inch wheel and tire assembly with load range "E" tires.
Adjustable height surge brake coupler can be fitted with pintle ring or ball hitch.
Optional anchor kit allows pushing beyond the weight of the trailer for additional force.
A 3-way ball valve enables the operator to quickly by-pass mud flow when adding pipe.
Specifications
Dimensions L (overall) x W (overall)

Hydraulic Power Source Details
Optional Roller Cone Bits
Optional DTH Air Hammer Kit
Pull back- 15,000 lbs. (6,803.88 kg)
Push down-9,000 lbs. (4,050 kg)
8 in. x 4 in. (20.32 cm x 10.16 cm) rectangular tubing
BL-8444 leaf chain
144 in. (365.76 cm) travel

712 ft. lbs. (965.34 N m)

241 x 84.2 in. (612.14 x 213.87 cm)
93 in. traveling (236.22 cm)
244 in. operating (619.76 cm)
Honda GX340 gas or Gorman Rupp 82H52
37 hp Kohler v-twin with 22 gal. (83.28 L) fuel capacity

50 hp Perkins diesel with 22 gal. (83.28 L) fuel capacity

1 10 ft (3 m) suction hose, 2 20 ft (6 m) discharge hoses
10 Micron return filter, 100 micron suction strainer
Dual circuit: 15 GPM at 2,500 psi (56.4 l/m at 17,236.89 kPa);
3GPM at 2,500 psi (11.34 l/m at 17,236.89 kPa)
Electric fan cooling unit
2 in x 10 ft.
(5.08 cm x 3 cm)
Mayhew Jr. taper thread tool joints

Joints with breakout lugs

Bits & reamers
3-7/8 in. to 7 in. diameter

(9.842 cm to 20.32 cm diameters)
Optional bits up to 10 in. diameter (25.4 cm diameter)
2 in. (5.08 cm) load bearing side inlet with top head drive swivel

1 1/2 in. (3.81 cm) 17 tooth splined shaft motor connection
Hydraulic Drill Pipe Breakout
1,000 lb capcity (453.59 kg)
120 ft (36 m) of 3/8 in. (.95 cm) cable
7,800 lbs. average (3,538 kg)