Drilling Depth:
100ft
Borehole Diameter: 6-inch
Soil Types: Sandy & clay terrain
Applications: Water wells, soil sampling, geotechnical testing, exploration shot holes & auger drilling
Developed over six years ago, the LS100 is the original small water well drill rig designed specifically for water well drilling in third world countries. As a reliable, easy-operating drill in a compact package, it sets the standard for the rest of the Lone Star line. The LS100 has brought water to over 50 countries, proving its worth in the mini water well drilling rigs category.  Not only that, but it's an economically priced water well drill.
The LS100 efficiently drills 6-inch borehole to 100 feet in sandy and clay terrain.
Heavy-duty welded steel frame and robust 3,500-pound winch stands up to the most demanding drilling applications.
Integrated 'C' wrenches allow crew to pull pipe quickly.
Convenient swivel design allows rotary to be moved for easy access to borehole.
Reliable Honda 5-horsepower gas engine provide years of worry-free power.
Entire drill package easily fits in to 1,000-pound crate to expedite shipping and transportation.
Features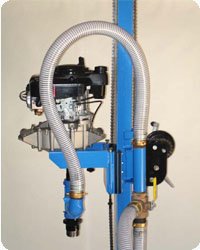 5HP Honda Powered Rotary
Swivel & Table Base

Rugged 3,500lb Winch

5.5HP Mud Pump
Water Well Drill Kit Includes:
Mud Pump – 5.5 HP
Mud Hoses – 2-in.
100 ft. of M50 Drill pipe (20pcs) with straight thread tool joints – 3 7/8" to 8" diameter
Step and Chevron Drag bits w/ break out lugs
Tool Box
Spare Parts
Packs into a 1,000 lb crate for shipping and storage
Specifications
Rotary
5HP Honda Gas Engine
25:1 Reduction Gearbox
2 in. Full Flow Side Inlet Swivel with Easily Replaceable Seals
Swings Aside or Removes for access to borehole
Dimensions
Height: 96.5 in.
Width: 12 in. (base)
Length: 24 in. (base)
Weights
Mast: 136 lbs.
Rotary: 92 lbs.
Base: 49 lbs.
Mud Pump
5.5 HP Honda Gas Engine
100 ft. Max Head
165 GPM Max Flow
2 in. Discharge
2 in. Suction
Controls
Push/Pull Throttle Control with Fine Vernier
Adjustment
Drill Stem
1.25 in. ID x 5 ft. Lg, M50 Straight Thread Tool
Joints with Breakout Lugs
Step and Chevron Drag Bits – 3-7/8 in. to 8 in. dia.
Options
Wheel Kit
Anchor Kit