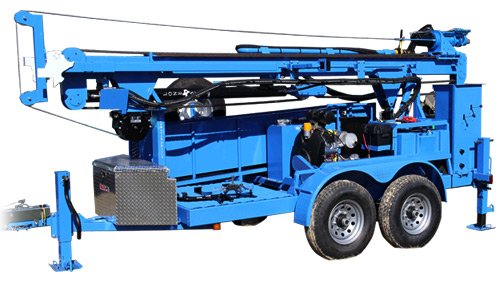 Drilling Depth:
400 ft (122 m)
Borehole Diameter: 6 in (15 cm)
Pull/Push-Back Force: 15,000 lbs/9,000 lbs (6.7 tons/4.02 tons)
Soil Types: Sand, clay and soft and hard rock formations
Applications: Water well drilling
Product Description:
The LS400T+ is the largest in the Lone Star line, boasting a 400-foot drilling depth. The drill's hydraulic system features pull-back force of up to 15,000-pounds and push-down force up to 9,000-pounds for getting through dense rock formations. A three-way ball valve enables the operator to quickly bypass mudflow when adding pipe. It easily adapts to down-the-hole hammer drilling and offers an optional foam injection/lubricator. The LS400T+ ships fully assembled in a 20-foot container.
Trailer:
Tandem axle with 400-pound tongue weight
12,000-pound rating
16-inch wheel and tire assembly with load range "E" tires
Choice of ball hitch or pintle ring
Three leveling jacks
Spare tire
Package Includes:
Mud pump
3,000-psi hydraulic system
Three 2-inch-diameter mud hoses (one 10-foot suction and two 12-foot discharge/bypass)
300 feet of 2-inch internal diameter Mayhew Jr. Drill Pipe with breakout lugs
Rineer hydraulic rotary motor with top mount Superswivel
Hydraulically operated auto-breakout sleeve
Casing flush tool
Bailer and rope
Toolbox and spare parts
Bits & Reamers:
4- and 6-inch step drag bits
4-, 6- and 7-inch reamers
Optional Components:
Anchor kit
Down-the-hole hammer package
Roller cone bits
Drill collars
Specifications
15,000 lbs (6.7 tons)/9,000 lbs (4.02 tons)

60-hp (44.74 kW) Perkins 404D-22T diesel

Primary - 14 gpm (53 L/m) at 3,000 psi / Secondary - 10 gpm (37.9 L/m) at 3,000 psi

10-hp (7.5 kW) diesel or 13-hp (9.7 kW) Honda gasoline