Drilling Depth:
300 ft (91.4 m)
Borehole Diameter: 6 in (15 cm)
Pull/Push-Back Force: 5,000 lbs/Up to 5,000 lbs (2,268 kg)
Soil Types: Sand, clay and soft and hard rock formations
Applications: Water well drilling
Product Description:
The LS300H+ has the power to satisfy the most demanding drilling applications. The unit's bypass flow control provides 5,000 pounds of powerful pushing force when anchored, ensuring the drill reaches its desired depth every time. Optional tricone roller bits and drill collars adapt the drill to a variety of conditions, helping it push through rock formations. The water well drill's heavy-duty frame and reinforced base provide added durability. Additionally, the drill's high-capacity load-bearing swivel offers extended seal life, virtually eliminating costly downtime.
Hydraulic Rotary

20HP Hydraulic Power Unit

Reinforced Table Base w/Slip
Control Valves

13HP Mud Pump
Package Includes:
Mud pump
3,000-psi hydraulic system
Three 2-inch-diameter mud hoses (one 10-foot suction and two 12-foot discharge/bypass)
300 feet of 2-inch diameter M250 drill pipe with straight thread tool joints
4- and 6-inch step drag bits
6- and 7-inch reamers
Toolbox and spare parts
Optional Components:
Anchor kit
Down-the-hole hammer package
Tricone roller bits and drill collars
Wheel kit
Diesel engines for hydraulic system and mud pump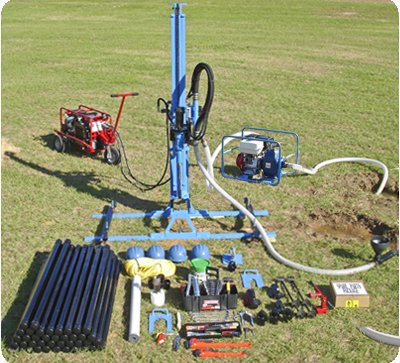 Specifications
Up to 5,000 lbs (2,268 kg)

95 rpm at 10 gpm (37.9 L/m)

10 gpm (37.8 L/m) at 3,000 psi

Packs into two separate crates