You'll need to pack the most powerful tools when drilling boreholes for water wells or installing geothermal HVAC systems in regions with the hardest rock formations. Mud rotary and tricone bits easily drill through soft to medium soil formations, but you'll want to switch to a down-the-hole hammer for maximum productivity in the toughest rock formations, such as quartzite, granite or basalt. This switch will also save you time and money by eliminating premature wear of the drill bits. The DTH hammer excels at boring through rocky soil and solid rock because of its percussive operation. Inside the DTH hammer, an air-powered hammer transfers energy through carbide teeth to shatter the rock surface, while the compressed air blows away the small rock fragments. It's sort of like a compact, spinning jackhammer that can fit inside a borehole. And, when paired with Lone Star's portable drills, you'll reach 400-foot, or 122-meter, depths.
Lone Star offers 3-, 4-, 5-and 6-inch diameters hammers, which are all compatible with the full line of Lone Star hydraulic drills. As an added bonus, air compressors offering 185-cfm output can power the 3-inch hammer and are generally easy to find on the used equipment market or through rental dealers. To achieve the fastest drilling speeds for the 5-inch and 6-inch hammers, select an air compressor that generates up to 400 cfm.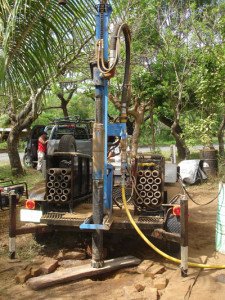 Here are a couple tips if you're not sure which size hammer is best suited for the project:
Choose the 3-inch or 4-inch model with a 4-inch ID casing set for drilling 3-3/4-inch or 3-7/8-inch boreholes in underlying rock. Pair it with trailer-mounted models LS300T+, LST1A+ or stand-alone rigs such as the LS200H or LS200H+.
Consider the 5-inch or 6-inch hammer with a 3-1/2-inch drill pipe for sinking a 6- to 7-inch borehole through mixed layers of rock and sand, clay, or gravel. Pair it with the LS400T+ to quickly reach the aquifer.
Proper anchoring of the drill also plays a large role in using the DTH hammer. For heavy, trailer-mounted rigs, anchoring isn't always necessary. But for compact, lightweight drilling equipment, such as our LS200H, LS200H+, LS300H and LS300H+, anchoring stabilizes the drilling platform and helps force drill bits and DTH hammers through soil and rock. Our LS200H and LS300H series drills require 30-inch-long anchors for drilling into clay, loamy and sandy soils. If the drill site is on rocky terrain, drillers must find alternative methods for anchoring the drills, such as placing water-filled tanks or barrels packed with rocks onto the unit. This anchoring force is crucial to pushing the DTH hammer, as well as heavy-duty drill bits, through rocky material.
Finally, picking the best drill for the water well or geothermal project is no easy task and matching it closely to the soil conditions can impact efficiency. We're ready to help you choose the ideal rig for your next project, whether you're drilling water wells or completing soil sampling. Check out the full line of Lone Star hydraulic drills and contact us today.