Little Beaver's Lone Star LST1A+ Geotechnical Drill is as diverse as its operators. Whether users are missionaries, engineers or soil technicians, the dependable drill powers through tough soils in challenging environments. An optional interchangeable head allows users to switch between mud rotary drilling for water wells to auger drilling for soil sampling and standard penetration testing.
With the included SSK1 soil sampling kit users may perform standard penetration tests using Little Beaver's optional 140-pound safety hammer, split spoon samplers and AWJ drilling rod. The LST1A+ Drill's ability to soil sample gives agricultural professionals insight into their soil's composition. This information identifies any problems and offers guidance when determining solutions for improved crop growth.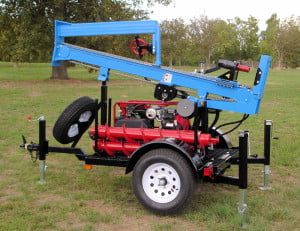 The LST1A+ Geotechnical Drill has what you need:
Power — Users can drill 6-inch bore holes down to 100 feet in sand, clay and soft rock formations.
Convenience — Specially designed frames allow users to mount the unit into the bed of a small truck for fast maneuverability from site to site.
Durability — The frame, rotary and swivel are constructed of high-strength welded steel, and all necessary maintenance and greasing points are easily accessible.
Adaptability — A 5,000-pound lifting capacity allows for easy removal of augers and extensions.
Precision — A bypass flow control system allows users to make adjustments to achieve the necessary push-down force in challenging soil conditions.
Meet all your soil sampling and geotechnical drilling needs with the versatile LST1A+ Geotechnical Drill.