Choosing a water well drilling rig requires careful consideration before signing on the dotted line. It's not an impulse decision. While price is the most common consideration for many people, there are quite a few other aspects to consider — some of which may outweigh the influence of price. Think about the service and support, training and quality; and don't forget about the ever-important mud pump.
Whether shopping new or used, a little research and education will help identify the right drill to meet your needs.
Service and Support:
Service is just as important as the product itself, so don't skimp on the partner you choose.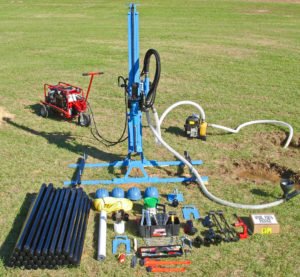 Look for a company that supports its customers, even after the sale. Oftentimes, if a product comes with a cheap price tag, it also comes with a subpar support model. The manufacturers of these discounted rigs might not be around long or won't be there to help you with questions or issues after the sale.
Instead, choose a manufacturer who is known for their after-sale support and resources. If they offer training manuals, videos and technical support, they are likely a trustworthy manufacturer who will help further the success of your business. Look for a company who has actual people answering their support phone calls. If they can answer not only your product questions, but also your operation and application questions, the company is likely dedicated to the success of its customers, not just making a sale.
A reliable company should be there when you need them with global parts shipping and expert support available by phone and email. By partnering with a knowledgeable and experienced manufacturer, you'll be able to tap into their familiarity with the products and logistics to get the most out of your water drilling equipment.
Another good indication of a reliable manufacturer is their warranty. One of the best ways to determine a company's confidence in its products is by reviewing the warranty policies that accompany a purchase.
Training:
Proper training is essential to the success of your operation, so work with a manufacturer who offers a safety and operational overview.
Operating a new piece of equipment presents a list of potential challenges. If an operator has not worked on a water well drill, or even if they have but are inexperienced with the brand or model, training is essential.
Many manufacturers offer onsite training, which is a great way for drillers to gain hands-on experience before beginning a project. Proper training helps operators become familiar with equipment, as well as the different roles on a drill site. By learning the roles and responsibilities on a jobsite, operators can minimize the risk of injury. Find a manufacturer who understands these roles and works with you to share safe operating procedures.
Quality:
Don't cut corners on materials and components if you want a drill that will perform well and last over time.
"You get what you pay for" is an over-used phrase, but it's true. A higher-quality product might cost a bit more, but when it performs better, causes fewer problems and lasts longer, those few extra dollars are worth it. Plus, low-quality drills typically have little to no resale value compared to higher-quality models.
Look for a manufacturer that discloses the quality of the materials they use, along with the assembly processes. Find a heavy-duty welded steel frame and thick drill pipes to ensure the drill can withstand challenging conditions. Some manufacturers cut corners by using thinner steel. This can cause the frame to bend or twist while driving or prematurely wear due to corrosion in hot, humid climates.
Having a robust water well drill pipe and other strong components can also make a huge difference. Some manufacturers cut costs by offering inferior water pipe instead of heavy-duty ASTM A500 spec drill pipe. And while drill pipe can cost 10 times more than water pipe, if your drill is 100 feet into the ground in a remote location and you hit hard soil or rocks, a broken pipe could mean a major setback. This situation could take hours to resolve or mean moving to a new site and abandoning your pipe to rectify. Look for manufacturers that use at least 1 ¾-inch-diameter drill pipe and connections made of heat-treated alloy steel. Lower-quality drills often use ¾- or 1-inch water pipes intended for less intense applications.
With quality components, drill operators also limit trips to a repair shop for replacement parts for their water well drilling rig.
The Secret is in the Mud Pump:
The power of your system and depth of the hole are directly related to the quality and power of your centrifugal pump.
The mud pump is an essential component of the water well drilling process. A powerful centrifugal pump is required to flush out the cuttings from the hole, allowing for the proper depth of drilling and a high-quality well hole. Once your pump can no longer flush out the cuttings, you have reached maximum depth capacity. The power and efficiency of a mud pump increases this depth, allowing you to drill deeper compared to other methods.
Some people may choose to cut corners and buy a cheaper mud pump from another manufacturer, which can result in poor performance by purchasing a pump with specs not tailored to their specific drill. Choosing a mud pump from an OEM means that it will provide the most optimal performance when paired with the drill.
Choosing Well Water Drilling Equipment
A knowledgeable drill manufacturer will work with you to identify the ideal drill for your needs. Soil type, geographical location and intended use will help determine which drill is best. Work with a company who supports your drilling mission during every step of the process. A true partnership will present the best results.