It's one thing for a drill manufacturer to say they provide long-term support, but when you're facing a project standstill, harsh lava rock and boiling temperatures, can they take the heat and live up to their word?
This was the situation the nonprofit Living Water International faced in April 2015 while drilling community water wells in Nicaragua. With temperatures well above 100 degrees Fahrenheit and challenging terrain, Living Water's Lone Star 400T+ drill rig needed
modifications to adapt to the extreme conditions.
"Our main objective is to provide all of our customers a reliable, economical and safe drill rig," said Randy VanWagner, Lone Star Drills lead engineer. "We're always looking for insight to incorporate into the design of new drill rigs for demanding conditions. In this case, the severity of the environment offered an opportunity for us to see firsthand how the LS400T+ performed against such challenges and find solutions."
Most recently, this included adding an electric fuel pump option for the LS400T+. As the largest and most robust drill in the Lone Star line, the LS400T+ reaches depths of 400 feet and is no stranger to hard rock formations. However, due to extreme temperatures and elevation changes, the mechanical fuel pump and hand bulb fuel primer pump, used in early models, ran the risk of failing to consistently supply fuel to the engine.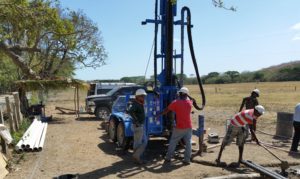 Lone Star Drills' engineers quickly adapted the LS400T+ to Nicaragua's conditions by installing an electric fuel pump, which ensured uninterrupted flow of fuel to the engine. In addition, the team installed guide assemblies to the drill's mast to increase reliability and safety. The guide assemblies keep the chain sheaves tracking properly even if the chain isn't maintained at the proper tension. With these improvements, Living Water's mission to deliver clean water carried on.
Lone Star Drills' service commitment didn't stop there. The drill manufacturer took the new knowledge home and developed electric fuel pump installation kits for other customers. These kits were sent to existing customers with an LS400T+ in a similar environment and are standard for new customers. Now that's beating the heat!
Interested in amplifying your equipment? Contact Lone Star Drills today for your next drilling solution.