Drilling Depth:
300 ft
Borehole Diameter: 6-inch
Pull/Push Back Force: 5,000-lbs @ 2,500 PSI/Adjustable up to 5,000-lbs
Soil Types: Sand, clay, soft & hard rock formations
Applications: Water wells, soil sampling, geotechnical testing, exploration shot holes & auger drilling
Built on a rugged tandem axle trailer, the LS300T+ offers the ultimate in performance and transportability. As a complete package, it features our most powerful hydraulics for drilling 6-inch boreholes up to 300 feet in everything from sand to hard rock formations. Shipping options include: fully assembled in a 20-foot container or broken down and palletized.
Heavy-duty welded steel frame, rotary and swivel provide added durability.
Robust hydraulic system features pullback forces of 5,000-pounds and push down forces adjustable up to 5,000-pounds for efficient drilling in rugged terrain.
Convenient by-pass flow switch allows pushing up to maximum force when anchored.
Mast folds down for safe, convenient transportation.
Its 7000-pound tandem axle trailer is easily towed by a small 4WD pickup or SUV.
Optional anchor kit allows pushing beyond the weight of the trailer for additional force.
 A 3-way ball valve enables operator to quickly by-pass mudflow when adding pipe.
Swivel base design swings rotary aside for quick, easy access to borehole.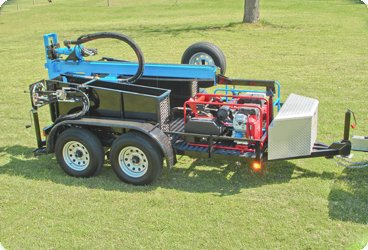 Mast Folded for Travel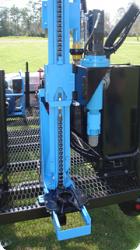 Rotary & Swivel
Water Well Drill Kit Includes:
Mud Pump – 13 HP Honda Gas or 10 HP Kohler diesel
Mud hoses – 2-in. internal diameter, 12 ft. long
300 ft. of 2-in. internal diameter N80 oil field quality drill pipe (60pcs) with Mayhew Jr. tapered thread tool joints w/ break out lugs
Load bearing side inlet swivel with manual J-latch break out tool
4 in. and 6 in. step drag bits
4 in., 6 in. and 7 in. reamers
Casing Flush Tool
Bailer & Rope
Tool Box
Spare Parts
Fits in a 20ft. container with plenty of room left for extra parts and supplies
Specifications
Dimensions L (overall) x W (overall)

Hydraulic Power Source Details
Drill Stem Diameter x Length
Optional Roller Cone Bits
Optional DTH Air Hammer Kit
Pull back- 5,000 lbs. (2,267.96 kg) at 2,500 PSI (17,240 kPa)
Push down – 5,000 lbs. (2,267.96 kg) at 2,500 PSI (17,240 kPa)

6 in. x 3 in. (15.24 cm by 7.62 cm) steel tubing
#80 chain
78 in. (198.12 cm) travel
95 RPM at 10 GPM (37.85 l/m)

665 ft. lbs. (888.06 N m)

130 x 68 in. (330.2 x 172.72 cm)
70 in. traveling (177.8 cm)

130 in. operating (330.2 cm)
13 hp gas or 10 hp diesel
20 hp Honda gas – 10 GPM at 3,000 PSI
(37.85 l/m at 20,680 kPa)
19 hp Kohler diesel – 10 GPM at 3,000 PSI

(37.85 l/m at 20,680 kPa)
3 Gal. (11.4 L) hydraulic reservoir

4 Gal. (15.14 L) fuel tank
Built-in heat exchanger and cooling fan
12-volt battery with electric start
Rotary – 4 way detented valve
Draw-works – 4 way spring centered valve
2 in x 5 ft.
(5.08 x 1.5 m)
N80 mayhew Jr. oil field quality

Taper thread tool joints
Step drag bits & reamers
3-7/8 in., 5-7/8 in. and 7 in. diameters

(10.16 cm to 17.78 cm diameters)
2 in. (5.08cm) load bearing side inlet swivel

Manual J-latch breakout tool
4,750 lbs. average (2,154.5 kg)

Bypass flow control on draw-works push down
Circuit provides adjustable weight on bit
Pressure gauge – 0-3,000 PSI (0 - 20,684 kPa)